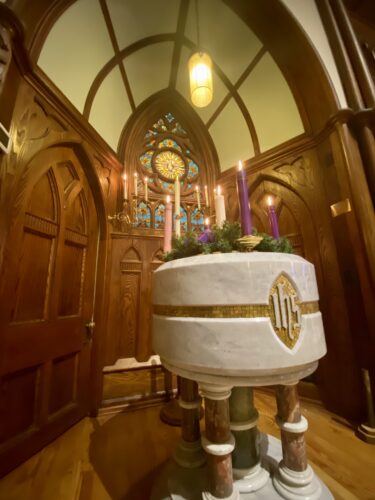 The word "Advent" comes from the Latin adventus, which means "coming" or "arrival." As a season of the church year, Advent is the four weeks before Christmas that prepares us to celebrate the Nativity, the birth of Christ, on December 25th. Christmas is a big mystery. We do not understand how exactly God comes to be among us in human form. Taking time to prepare to celebrate Christmas allows us to enter more fully into the mystery. It is said, if we don't take time to get ready for Christmas, we could "walk right by this mystery" without ever really experiencing it. And so, we spend the four weeks before Christmas anticipating and preparing for the coming of Christ. Advent has a double spiritual meaning. While anticipating the arrival of the birth of Jesus, we are also anticipating the arrival of the second coming, when Jesus will return to us. Churches using the Revised Common Lectionary will find both themes present in the Sunday  lessons during the season of Advent.
Ways to Deepen the Advent Season
First Sunday of Advent


Create an Advent wreath and offer your prayers and reflections.

Second Sunday of Advent
Create a creche to tell the story of Jesus' birth.
Third Sunday of Advent
Add to your creche to learn what Jesus needs to grow and thrive.
Fourth Sunday of Advent
Honor Mary, the mother of Jesus by creating an ornament for your Christmas tree.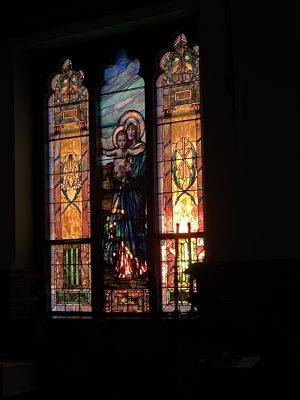 Advent Calendar - Praying in Color
Advent Online Meditation Workshop: Led by The Rev. Hillary Raining, D.Min.
Visit: https://lifelonglearningvts.teachable.com/p/advent-meditation-workshop/?src=email&mc_cid=813774f255&mc_eid=316e748282
Dr. Hillary Raining is Director of the Center for Christian Spirituality and Affiliated Professor of Ascetic and Liturgical Theology at General Theological Seminary in New York City.
A multimedia meditation guide for moments of "hush from the rush" this Advent
An Opportunity for Restoration in Body and Spirit In this workshop, Dr. Raining guides you through a meditation with prayer, scripture, and reflection. The meditation draws upon "An Order for Worship in the Evening" in The Book of Common Prayer and features the practice of visio Divina, or "divine seeing," with candlelight. The workshop includes a 15-minute video meditation guide and a printable worksheet for reflection and journaling. It is designed to be a devotional resource that you can use for personal or group meditation again and again throughout the Advent season.
Consider Giving the Gifts of Life this Christmas
Instead of toys, books or items that are tossed away, consider giving to Episcopal Relief in honor of a family member or friend. Your donation can be designated specifically by choosing from unique and life-giving gifts such as bee hives, flock of chickens, fruit tree or a disaster kit.  These are vital necessities to families in under-developed nations.  Make your gift giving meaningful to you, your recipient and to a family who desperately needs our help. 
 Visit https://www.episcopalrelief.org/1000daysoflove/advent/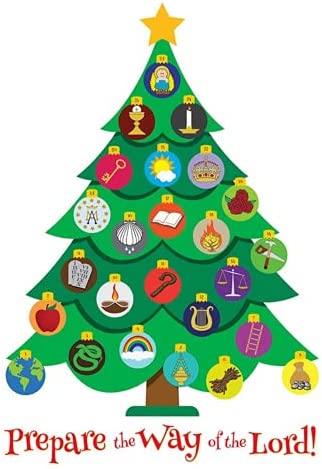 Jesse Tree is a way of preparing for Advent by journeying through the stories on Jesus's family tree. Each day of Advent, read a Bible story about someone on Jesus's family tree and hang an ornament symbolizing the story on your Jesse Tree. As you decorate your tree, you'll see how God prepared for Jesus to be born through many generations.
Where does Jesse Tree come from?
The Jesse Tree tradition is rooted in Isaiah 11:1: "A shoot shall come out from the stump of Jesse, and a branch shall grow out of his roots." Jesse was the father of David, Israel's greatest king. And Jesus is descended from the line of David. He is the branch God promised would grow from Jesse's family tree. Each symbol represents a story from within this family tree and a step toward the birth of Jesus.
Additional Advent Resources
1000 Days of love
Devotions 365
Advent Meditation
Advent Antiphons
Advent Calendars
1000 Days of love
Devotions 365
Advent Meditation
Advent Antiphons
Advent Calendars