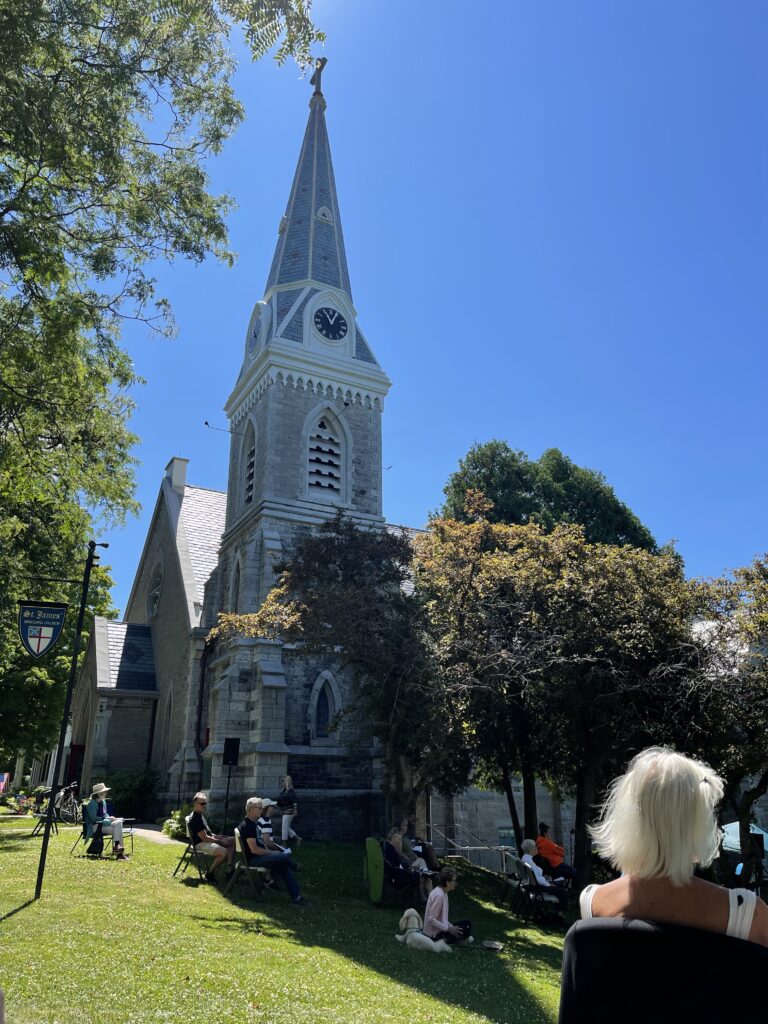 After 13 years of amazing ministry, St. James' beloved rector the Rev. Dr. Becky Coerper has retired along with her talented husband Kip Coerper, ChM. organist/choirmaster.
St. James' is in the process of transitioning to an interim rector and ultimately to a permanent rector to lead this vibrant parish on its next journey in faith.  On this page, you will find information and links to other resources that can help you learn more about St. James'.  Should you wish to speak to anyone in person, feel free to contact the Parish Office at 315-685-7600 and we will be happy to connect you with our Vestry Wardens.  
While St. James' is sad about saying goodbye to two of our family, we are excited about the hope and opportunities the Holy Spirit will provide us in the future.  St. James' is a caring, welcoming and diverse family. And it will always be.  This church prides itself on continuing to learn from the word, clergy, visiting preachers, and each other.  As this church seeks new leadership, we are confident our core beliefs and mission will remain constant.  We may be in transition but always remain a strong congregation devoted to the word and example of Jesus Christ.
St. James' offers an incredible opportunity for a special rector who we know God is preparing for their new journey with this church family.
If you would like to speak to someone regarding the permanent rector position, please contact Susanne Rynkiewicz at
Susanne.rynkiewicz@yahoo.com
A Letter from St. James' Interim Rector Rev. Joe Tyler Mitchel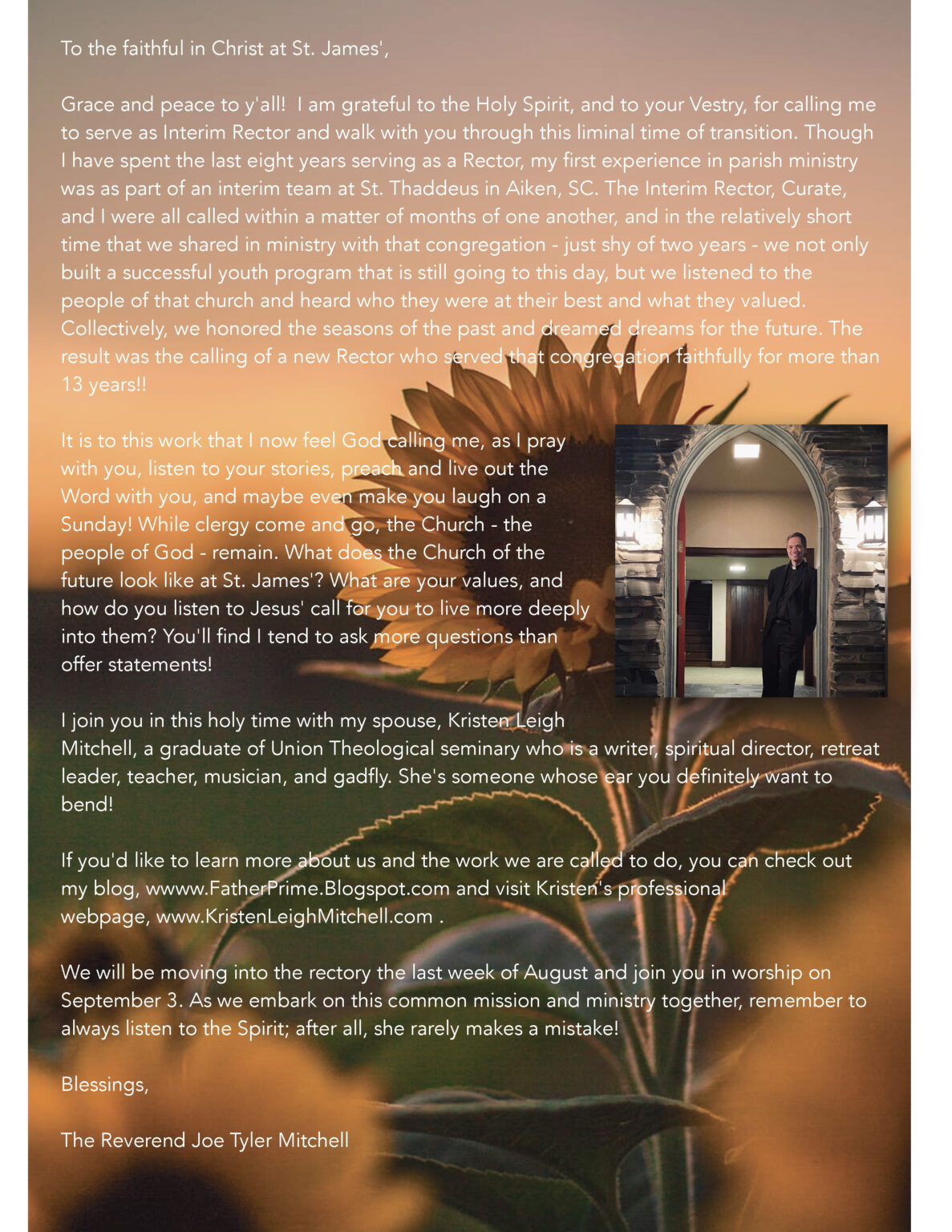 Transition News Update July 6, 2023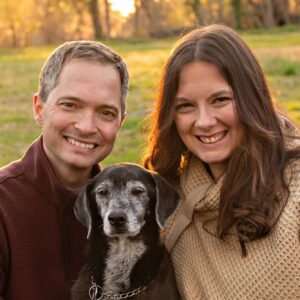 Father Joe Tyler Mitchell has accepted the position of St. James' Interim Rector.  He describes himself as "just your average Transformer-collecting, baseball-playing, theatre-loving, pop culture-referencing priest from the coalfields of southwest Virginia." Currently, he is the Rector of the Episcopal Church of the Good Shepherd in Ashboro, North Carolina. He is married to Kristen Leigh Mitchell a singer-songwriter and artist-theologian originally from Greensboro, North Carolina. Rev. Joe Tyler Mitchell is a priest in the Episcopal Church (USA). He was born and raised in the remote Appalachian mountains of Wise County, VA. After graduating from Center College with a degree in History and Theatre, and working as an actor, a baseball player, and a coach, Joe discerned a call to the priesthood and made his way to New York City, where he earned his M.Div. from General Theological Seminary. He was ordained a priest in the summer of 2013. Joe is a lover of liturgy and a passionate advocate for those on the margins of society. He believes in the power of the Gospel to transform lives and shape communities, and strives to empower and inspire others through his teaching, preaching, and prayerful presence. He is a fan of Greek mythology, liberation theology, comic books, cooking, the Cleveland Indians, Japanese pop music, nerd culture, film, and Transformers, of which he has collected over 400.
More communication about and from Father Joe Mitchell will be coming in the upcoming weeks.
Transition update from the Wardens
The Interim Rector
Bill Spalding and Susanne Rynkiewicz are pleased to announce that St. James' has an Intentional Interim in place. They are slated to begin their work with us the first week of September.
All details regarding this person will be announced at the beginning of July or after their current parish announcements are completed.
The Vestry is very impressed by this person and we are excited to introduce you.
The Rectory
Much work is being done behind the scenes making lists and plans for sprucing up the rectory. Many thanks to Margie Amberge, Buildings and Grounds, and the growing team of experts for their work on this project.
Keep an eye out for requests for volunteers. All painting and repairs will begin after Becky and Kip are off to their new home on July 1.
The Search for a New Settled Rector
What happens next in our search of a settled Rector?
Once the Interim arrives and begins their work with us, the Vestry will be able to switch its focus to this next milestone.
The Search Committee candidates will be gathered and selected by the Vestry, performing a similar process as the Vestry Nominating Committee. We expect to be starting calls the first week in October.
If you have any questions or concerns, feel free to reach out to Susanne Rynkiewicz or Bill Spalding, St. James' Wardens.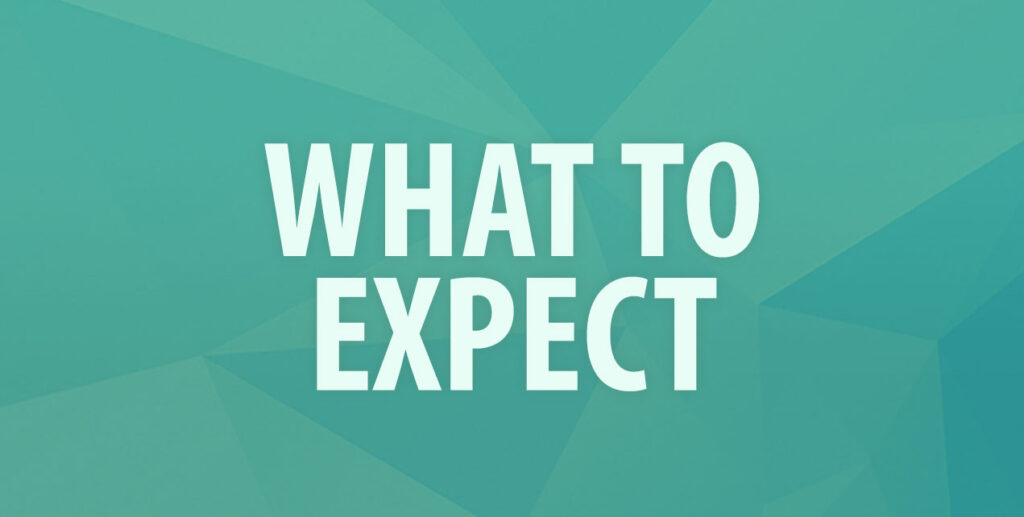 Part of the transitioning process is understanding the ending of the current relationship with Rev. Becky Coerper in order to give the new clergy a fresh start to build upon.  This is probably one or the biggest challenge as a parish to truly comprehend.  Below is the Covenant of Understanding for Departing Clergy with a summary at the beginning from Becky.  Hard copies of this can be found at St.James'. Please take time to read this and digest the important next steps for both Becky and our congregation.  Many of you may feel that you are the "exception" to the rule, unfortunately no one is an exception.  If you have any questions, please contact Laura Posecznick, Interim Chief of Staff.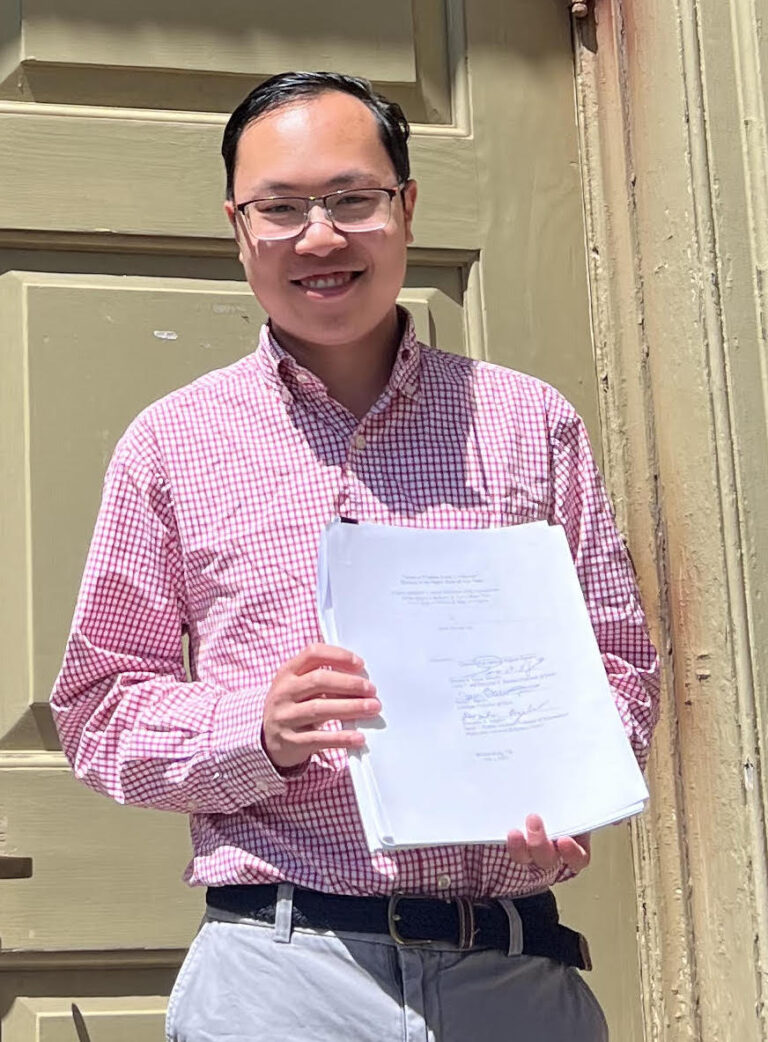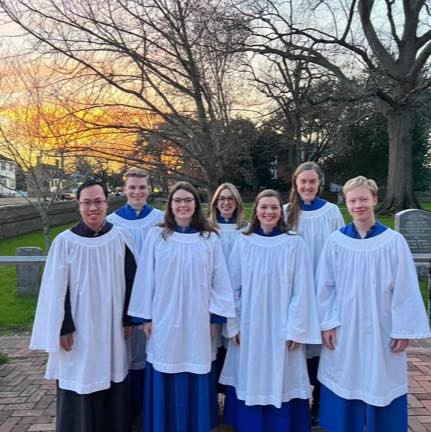 St. James' Introduces New Organist/Choirmaster -Justin Oei
Justin Oei (pronounced We), St. James' incoming Organist and Choirmaster, is a soon-to-be graduate of the College of William & Mary in Williamsburg, Virginia, with a Bachelor of Arts in Music and will be moving to Syracuse in August to begin his Master of Music in Organ Performance at Syracuse University's Setnor School of Music. A native of New Jersey, Justin led the music ministries for Canterbury, the Episcopal Church at William & Mary for three years, played weekly services at historic Bruton Parish Church, and served as the Organist at Our Saviour's Lutheran Church in Norge, Virginia. He has also worked as a freelance organist and vocalist throughout northern New Jersey and Virginia. In January 2023, he was awarded the Colleague certificate from the American Guild of Organists.
Justin will begin his ministry at St. James' on August 1. His first Sunday will be August 6 and there will be a welcome reception on Sunday, August 13 after the 9am worship.
Justin Oei –Justin@stjamesskan.org
St. James' Liturgical Style
St. James' enjoys 4 intentionally different weekly worship services. Sunday at 7:30 is Rite I Eucharist with a little bit of organ music. This congregation is small but so warm and loving of one another. Sunday at 9:00 is Rite II Eucharist with organ and choir, mostly traditional hymnody but willing to branch out to include gospel and some more contemporary songs. This service has some formal ritual, but is still very down-to-earth in feel. Sunday at 10:45 is Rite II or III Eucharist with a band (guitar, piano, drums, harmonica). This liturgy uses resources from other traditions (Lutheran and Celtic for instance). Four months of the summer, this late morning service moves outdoors beside the lake in a public park. This is the most casual of the services, but all are somewhat informal. Though Wednesday evening at 6 PM is spoken Evening Prayer with a brief homily. All but the Sunday service at 7:30 are regularly live-streamed. The worship staff is committed to creativity and excellence and spends significant time planning for Christmas, Easter, and Holy Week to offer services that are accessible, engaging, and transcendent.
Leadership team for Wednesday Evening Prayer: Sharon Arliss, Nancy Graham, Marie Hughes, Carol Murphy
Leadership team for Centering Prayer: Pam Stewart: point person, Cindy Bright, Dan Fisher, Terry Major, Mary McGrath  
Leadership team for Racial Justice and Reconciliation Commission: Debra Rose Brillati and Meg Osborne: co-chairs; Corinne Buterbaugh: secretary; Carolyn Legg: office liaison.
Secretary for the Memorials: Judy Bettis
              Children's Ministry
St. James' is committed to meeting families where they are instead of offering the "traditional" Sunday school programs. In 2023, the Year of the Child was created with the formation of a children's commission. This commission has been researching and developing more new programming for all ages.  Story-time, free play, interactive Sunday School with music & movement, and non-pressure middle & high school youth events such as movie night will begin in the fall.  Kid's communion learning series and a confirmation program will also be offered as there is interest.  This ministry is a mix of volunteers and paid staff.  All people who work with children must complete the Episcopal Safe Church Online Training modules.  Exciting times are ahead and we encourage you to stay tuned by visiting this website.  Below is a link to see some of our children's activities and resources for parents.