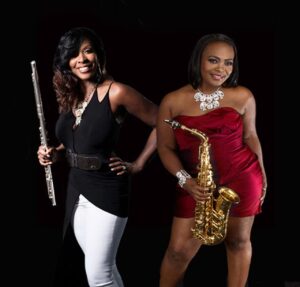 Did You Know: A great way to celebrate Black History Month is to support and enjoy CNY Jazz Black History Month Caberet. On Sunday, February 26th at 5:00 pm at the Marriott Syracuse Downtown's Finger Lakes Ballroom there will be a concert with performances by Althea Rene and Jeanette Harris. Also, George Kilpatrick who is a media pioneer and community affairs activist will be honored with the 2023 Pioneer Public Service Award. 
Althea Rene is a Detroit-born flutist and Jeanette Harris is a saxophonist, who has been dubbed the "Queens of Soul Jazz" in a rare all-female smooth jazz double bill. Rene is well-known to area jazz fans as a Motown music legacy, she is the daughter of Dezie McCullers of the original Funk Brothers. Harris, a native of Fresno California, is an instrumentalist and songwriter. The Pioneer Public Service Award will be presented at the event as well to radio and television host for iHeart Radio and WCNY George Kilpatrick.
If anyone is interested in celebrating Black Artists and enjoying an evening of Jazz here is the information including the website where you can get tickets to join! 
https://www.syracuse.com/music/2023/01/cny-jazz-black-history-cabaret-presents-female-double-bill.html 
The Details
What: Black History Month Cabaret with Althea Rene and Jeanette Harris
Where: Marriott Syracuse Downtown, 100 E. Onondaga St., Syracuse
When: Sunday Feb. 26, 4 p.m. doors, 5 p.m. show
Tickets: Admission including free buffet $35 in advance, $40 at the door at cnyjazz.org/tickets or 315-479-5299.