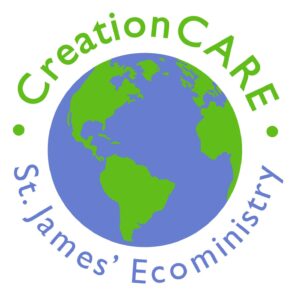 CreationCARE is St. James' environmental ministry. We believe we have a responsibility to care for our natural resources, be responsible stewards of God's creation, and share the importance of caring for creation with others. If you agree and would like to learn more and/or to be a part of this ministry, please contact Kip@stjamesskan.org.
Keep Connected with the Diocesan Green Corner:  CLICK HERE
New Adult EducationCaring for God's Creation: What, Why, and How?
3 Sessions-All Recorded for You to Watch

Celebrate the Season of Creation: September 1-October 4
The Season of Creation, Sept. 1 through Oct. 4, is celebrated by Christians around the world as a time for renewing, repairing, and restoring our relationship to God, one another, and all of creation. The Episcopal Church joins this international effort for prayer and action for climate justice and an end to environmental racism and ecological destruction. The 2023 theme is "Let Justice and Peace Flow." In celebrating the season, we are invited to consider anew our ecological, economic, and political ways of living.

The Season of Creation may be a great opportunity to hold an outdoor worship service or ministry event. If you share about your Season of Creation activities on social media, please use the hashtags #Episcopal #SeasonofCreation.
A monthly offering on how to be environmentally conscious.
Our local library offers many types of kits and resources (including museum and park passes) available free to the public! Click the arrows to learn more about each item.