In October and May, St. James' holds a Month of Community Service where St. James' provides a list of opportunities to serve or donate to local charities and organizations.   This is also a great time to think about volunteering to serve as part of your walk with faith.  Please take time to review some of the ministries that serve our community.  If you find any of these outreach ministries interesting and would like to learn more, please contact Laura Posecznick at Laura@stjamesskan.org.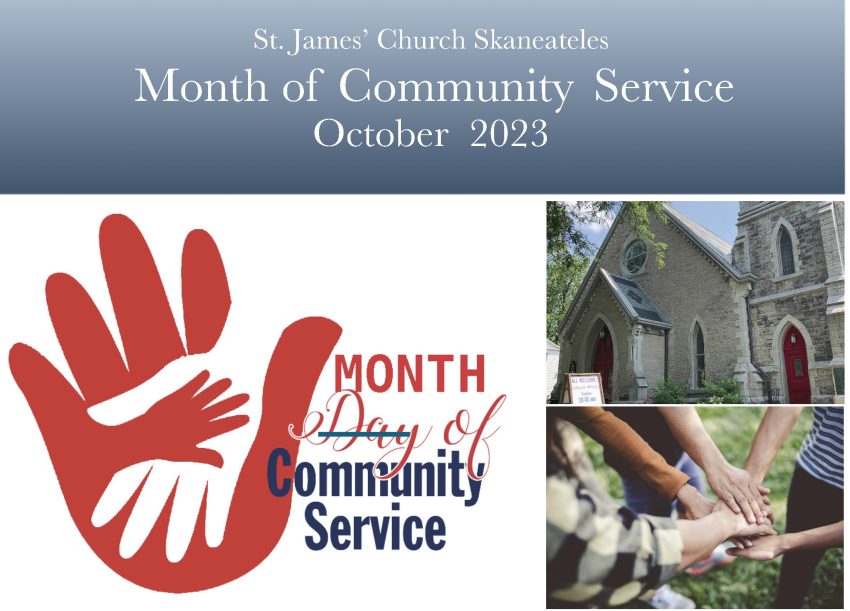 October is St James' Month of Community Service. There are many opportunities to donate to a charity, participate in a project, make deliveries and acts of kindness. Sign Ups are ONLINE and projects can be done anytime during the month of October.
This May the focus will be on projects/donations for:
Chapel House in Auburn
InterFaith Works
Samaritan Center
Mission of Miracles-El Salvador Trip
Skaneateles Outreach
SS Peter & John Soup Kitchen
Merman Circle-(Rescue Mission)
Ronald McDonald House
Skaneateles Food Pantry
Projects to help local parishioners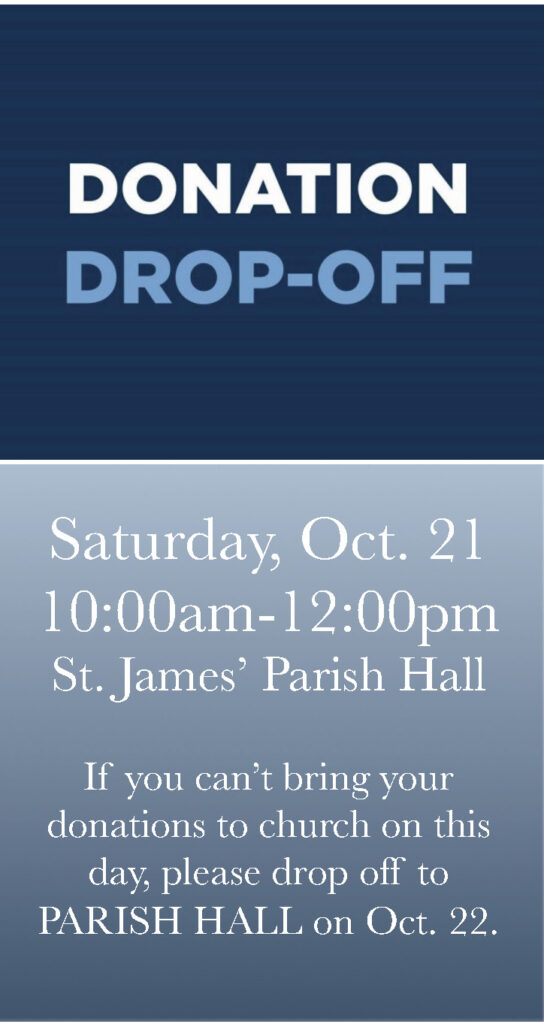 Click the button above and you will be directed to the list of projects. Click on a project, enter your name and you will be contacted with specifics by the project coordinator. 
Projects can be done anytime during the month of October. If you have volunteered to donate an item, you can bring that item Saturday, October 21, between 10:00AM and 12:00PM, and drop it off inside the Church. If you are unable to bring your item on Saturday, you can bring your item to any service on October 22.
If you have any questions, please contact Beth Quattrociocchi at 607.727.9827, Chris Davis at 315.751.5412, Nancy Graham at 315.317.0138 or leave a message on the church voicemail at 315.685.7600.
The Month of Community Service always fills the church with excitement as we share God's love. Thank you for your generosity in making a difference locally & abroad!
With the partnership St. James has with the Auburn Rescue Mission, we have an opportunity to engage the tenants of the Merriman Circle neighborhood in Auburn. The tenants are in a situation where they have recently come out of homelessness and are living in the Merriman Circle neighborhood in an attempt to learn life skills and get a chance to start over.  Opportunities to interact with children include reading, game playing, or activity time for doing fun or creative hobbies or crafts.
If you would like to volunteer or learn more about the Auburn Rescue Mission, please contact the Parish Office to be connected with the volunteer team.
Skaneateles Ecumenical Food Pantry
In 2001, seven local churches – First Presbyterian, Grace Chapel, Holy Trinity Lutheran, St. Andrews United Methodist, St. James' Episcopal, St. Mary's of the Lake Roman Catholic, and Skaneateles United Methodist – combined their food programs into one ecumenical food pantry to collect and distribute food to the needy of the Skaneateles area. The Pantry serves approximately 100 households each month, and provides special holiday distributions at Thanksgiving, Christmas and Easter. The people of St. James' provide weekly food donations, as well as volunteers who serve at the Pantry and on its board of directors.
Soup Kitchen at SS Peter and John in Auburn
This soup kitchen feeds as many as 150 of our hungry neighbors every Saturday, 52 weeks a year.  St. James' sends volunteers on the last Saturday of the month.  Some work from 9:30 am to 11:30 am preparing food while others work from 11:30 am to 1:30 pm serving and cleaning up.  All you need to help is a willingness to work and smile!
Mission of Miracles-El Salvador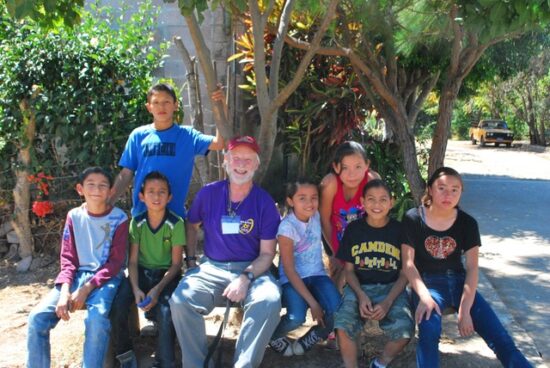 Mission of Miracles will fly again to El Salvador Mission 2024 is in memory of Jim O'Neill and Debbie Donigan and Maria Dawson After a long hiatus due to COVID, a team of medical professionals and lay leaders will once again travel to El Salvador through Mission of Miracles 2024.
Mission of Miracles (MoM) is a medical outreach program developed in 2003 out of the companion diocesan relationship between El Salvador and the Episcopal Diocese of Central New York. St. James' parishioners Bonnie Adams RN, Helen O'Neill RN, NP, David O'Neill, and the late Jim O'Neill, are long-time activists with MoM, both in the mission planning process and in traveling to El Salvador.
Mission 2024 is dedicated to the memory of Jim O'Neill and Debbie Donigan, both of whom died during 2022. This year we lost Maria Dawson who was our head translator for many years and on the Planning committee. Jim was a leader of the mission, team photographer and a committed member of the planning committee. He won the hearts of children in the villages when he would bring back photos of them from the previous year's mission.
Debbie Donigan was the mission pharmacist and worked endless hours during the year to provide a well-stocked and organized pharmacy not just for the week-long mission but also for Dr. Daniella Flamenco to use yearlong in the Diocese of El Salvador's Health Program. Maria Dawson was our head translator for many years and part of the planning committee.
St. James' parishioners can help support Mission 2024, which is scheduled for Jan. 20-28 by donating online to MoM– https://missionofmiracles.org/news/ or by donating specific items during St. James' Month of Community Service in October.
The first mission to El Salvador happened in 2003 as a partnership between the Episcopal Diocese of CNY and Iglesia Anglicana de El Salvador (Diocese of El Salvador). A group of eight people from the Skaneateles area (three physicians and four nurses) traveled to El Salvador and worked with the Diocese of El Salvador's Health Program's single physician. Over the years, both the mission and the El Salvador Diocese Health Program have grown to include medical, vision, dental, pastoral counseling and nutrition with an emphasis on health promotion and education.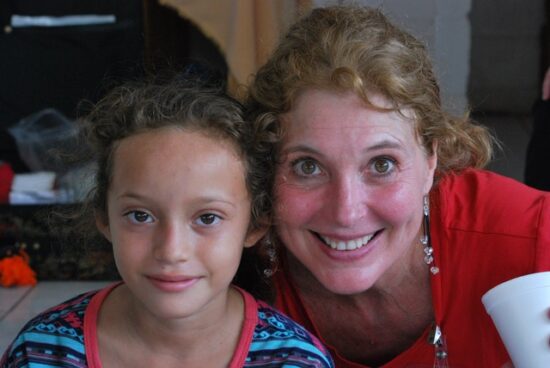 Today, a partnership with Episcopal Relief & Development has enabled MoM and the Diocese of El Salvador to sustain a full-time physician and dentist and serve people in five villages. Dr. Flamenco provides care for 200 chronically ill patients, as well as group health education classes for adults and children. Additionally, with support from Episcopal Relief & Development, Dr. Flamenco now has an electronic medical record system that enables her to communicate remotely with other health providers. MoM donations are used to buy medications from Blessings International, a nonprofit organization that provides very low cost pharmaceuticals for international medical missions. Funds are also used to purchase medical supplies and medical equipment. MoM is extremely grateful for the support it receives from people in the Episcopal Diocese of CNY.
More information is available on the web at
https://cnyepiscopal.org/ministries/mission-ofmiracles/ and at https://missionofmiracles.org/ .