In October and May, St. James' holds a Month of Community Service where St. James' provides a list of opportunities to serve or donate to local charities and organizations.   This is also a great time to think about volunteering to serve as part of your walk with faith.  Please take time to review some of the ministries that serve our community.  If you find any of these outreach ministries interesting and would like to learn more, please contact Laura Posecznick at Laura@stjamesskan.org.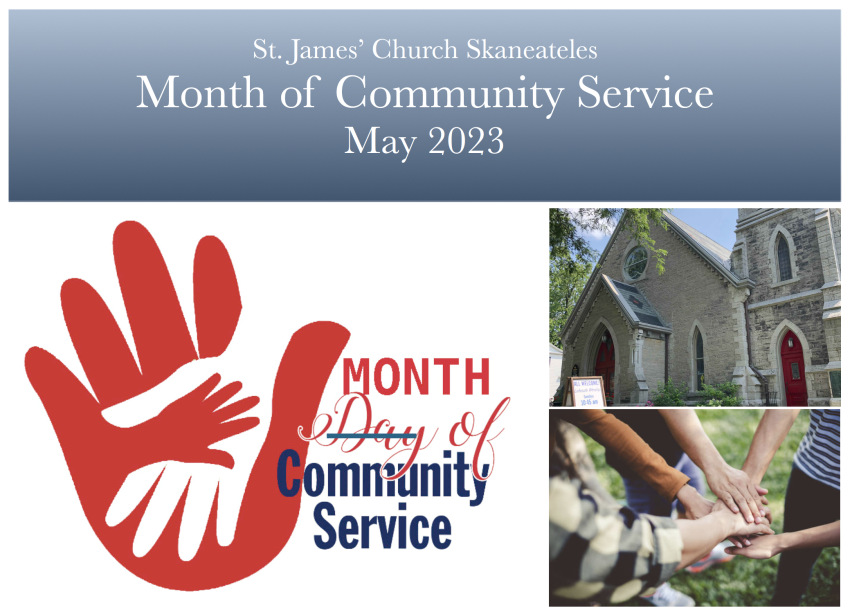 May is St James' Month of Community Service. There are many opportunities to donate to a charity, participate in a project, make deliveries and acts of kindness. Sign Ups are ONLINE and projects can be done anytime during the month of May.
This May the focus will be on projects/donations for:
Chapel House in Auburn
InterFaith Works
Matthew House
Habitat for Humanity
Samaritan Center
The Thrift Shop
SS Peter & John Soup Kitchen
Gardens & Pollinators for Hillbrook
Merman Circle (Rescue Mission)
Ronald McDonald House
Skaneateles Food Pantry
Projects to help local parishioners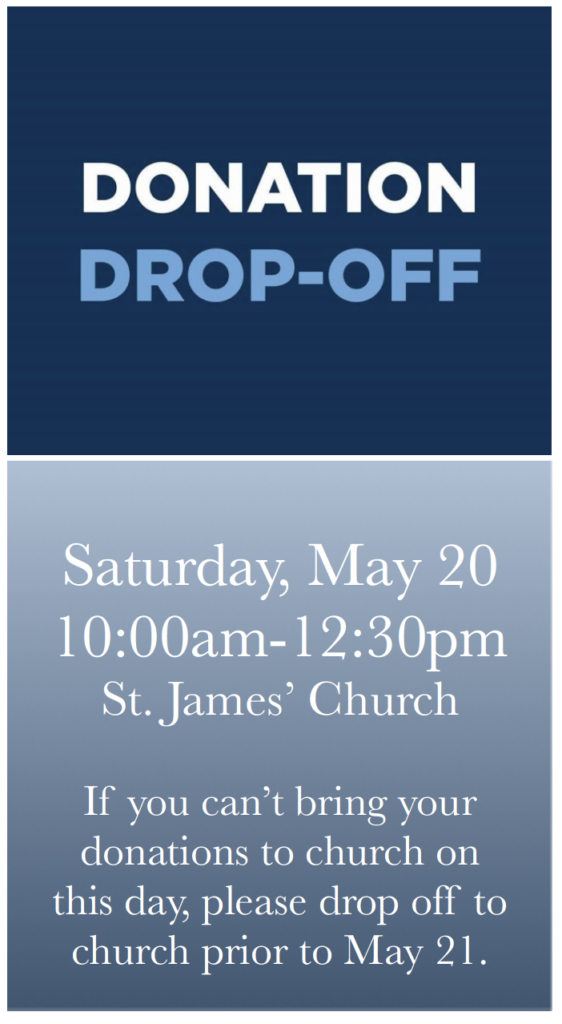 Click the button above and you will be directed to the list of projects. Click on a project, enter your name and you will be contacted with specifics by the project coordinator. 
Projects can be done anytime during the month of May. If you have volunteered to donate an item, you can bring that item Saturday, May 20th, between 10:00AM and 12:30PM, and drop it off inside the Church. If you are unable to bring your item on Saturday, you can bring your item to any service on May 21st .
If you have any questions, please contact Beth Quattrociocchi at 607.727.9827, Chris Davis at 315.751.5412, Nancy Graham at 315.317.0138 or leave a message on the church voicemail at 315.685.7600.
There will be weekly announcements in the newsletter and during the five Sundays of May we will have project coordinators sharing with us the impact of the projects we are supporting. 
The Month of Community Service always fills the church with excitement as we share God's love.
Lots are happening in Auburn, New York!  If you are interested in being a part of the team who assists in building, need a home, or interested in working for the Habitat organization (Auburn location), please contact Kip Coerper at kip@stjamesskan.org.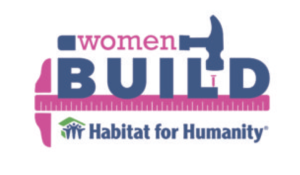 Greetings from Cayuga County Habitat for Humanity!
Do you have any plans for Saturday, May 20, 2023, yet? Well, we have a great idea for you. You are invited to participate in our annual Women Build, where you will help one of our partner families get their forever home. All you have to do is be willing to work, and our construction team will lead and guide your efforts. No experience except a giving heart is needed. We even provide the necessary tools!
Last year's Women Build was an exciting event with over 60 volunteers – most of them women. In one day, volunteers had fun, learned some new hands-on construction skills or got in more practice on skills they already knew. The women really gave the Wall Street house a boost in getting it ready for a new family this Spring. This year Women will be working at homes on Perrine Street and Madison Avenue, so the more volunteers we have, the better.
Women Build is an opportunity for women to help each other build community, confidence, and independence so invite your friends to participate as well. The enclosed sheet will give you more information, and if you decide to participate, you can register with that form. If you want to have a team, please include your team name on the form. The fee to participate is $25 per person. Lunch and snacks will be provided to everyone.
Please feel free to contact me if you have any questions. My email is marie.hughes@cayugahabitat.org and my phone number is: 315-255-1427 Marie P. Hughes, Event Coordinator
With the partnership St. James has with the Auburn Rescue Mission, we have an opportunity to engage the tenants of the Merriman Circle neighborhood in Auburn. The tenants are in a situation where they have recently come out of homelessness and are living in the Merriman Circle neighborhood in an attempt to learn life skills and get a chance to start over.  Opportunities to interact with children include reading, game playing, or activity time for doing fun or creative hobbies or crafts.
Skaneateles Ecumenical Food Pantry
In 2001, seven local churches – First Presbyterian, Grace Chapel, Holy Trinity Lutheran, St. Andrews United Methodist, St. James' Episcopal, St. Mary's of the Lake Roman Catholic, and Skaneateles United Methodist – combined their food programs into one ecumenical food pantry to collect and distribute food to the needy of the Skaneateles area. The Pantry serves approximately 100 households each month, and provides special holiday distributions at Thanksgiving, Christmas and Easter. The people of St. James' provide weekly food donations, as well as volunteers who serve at the Pantry and on its board of directors.
Soup Kitchen at SS Peter and John in Auburn
This soup kitchen feeds as many as 150 of our hungry neighbors every Saturday, 52 weeks a year.  St. James' sends volunteers on the last Saturday of the month.  Some work from 9:30 am to 11:30 am preparing food while others work from 11:30 am to 1:30 pm serving and cleaning up.  All you need to help is a willingness to work and smile!