Dear People of God at St. James'...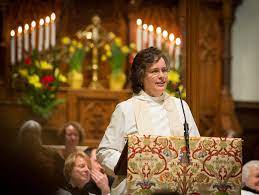 As you read through the information presented here, please take a moment to reflect on how your faith and your relationship with God has grown and been nurtured at St. James' and consider this question: what kind of growth do you imagine for yourself and for St. James' in the future? Take a moment to think about that question. And then I want to share with you the vision that I have.
I imagine St. James' growing in our capacity to provide a place where people of every age feel the invitation and find the opportunity to grow in the knowledge that they are loved and forgiven by God; to grow in their faith and trust in God; to grow in confidence in exercising their unique gifts; to grow in leadership; and to grow in compassion and the desire to serve God's world. I even imagine St. James' as a place that becomes a model for Christian engagement and community, where postulants and newly graduated seminarians would want to come to experience a wide variety of ministry and practice before going on to lead their own churches.
There is probably nothing that blesses me more than to hear someone say that they have learned and grown since making St. James' their home and that they understand more about the Christian faith and practice, more about following Jesus day-to-day, and more about how to live as a person of faith in today's world.  
I hope that you will review this brochure and prayerfully consider how you have grown at 
St. James' and how you can impact the future by Giving to Grow!
Sincerely,
Becky Coerper
Rector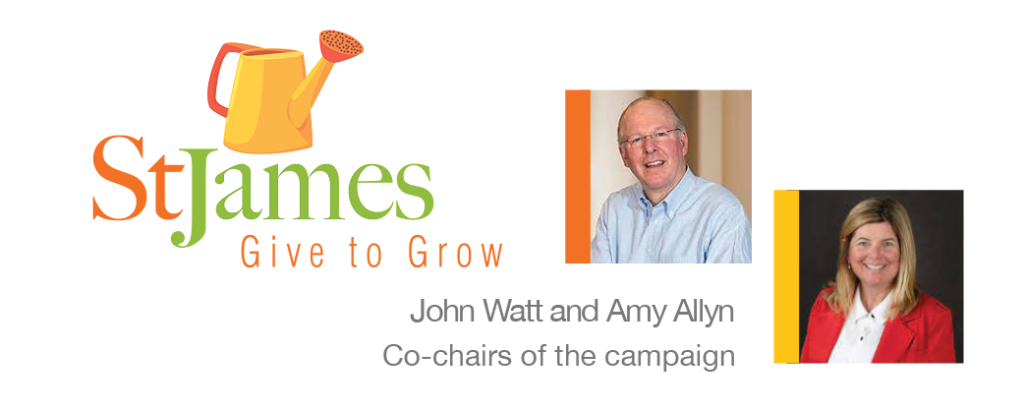 In 2022, we are all being invited to "give to grow" both in the short and long term by contributing to the St. James' Foundation now and in the future. Your gift will ensure that St. James' continues to grow as an active and vibrant Christian community, with parishioners alive in their faith and sharing 
God's love with the world,
John Watt and Amy Allyn
Co-chairs of the campaign
Despite the challenges of these past few years, St. James' has extended its reach by: continuing to offer online worship services; increasing programming for all ages, including in person and virtual Sunday School, prayer groups, Bible studies and book discussions; hosting guest speakers, concerts and events; and expanding community service opportunities. And our membership is growing too!  
But growth at St. James' isn't just about growth in the number of programs or people!  It's about growth in our faith, in our commitment and in our engagement.  It's about growth as a Christian community.
We seek to empower the ministry and mission of St. James' Church by raising $500,000 for the Leadership Support Fund of the St. James' Foundation.  This fund was first established by the Vestry in 2020 to support leadership endeavors specifically related to clergy and staff.  We are seeking additional contributions to the Leadership Fund in 2022 to support the hiring of a part-time Assistant Rector.  Over the long term, contributions to this fund will be available to support other leadership-focused initiatives and various needs of our clergy and staff.

You may also contact John Watt (585) 748-4736 or Amy Allyn (315) 730-2668 or complete and return the Give to Grow Campaign Donation Card available in the church office.