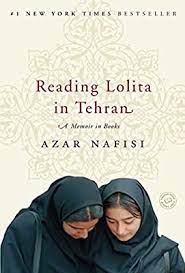 Adventure Book Club April Discussion
Reading Lolita in Tehran: A Memoir in Books by Azar Nafisi  
Discussion: Sunday, April 23 at noon  
From the publisher: "Every Thursday morning for two years (1995-97) in the Islamic  Republic of Iran, a bold and inspired teacher named Azar Nafisi secretly gathered seven of her most committed female students to read forbidden Western classics (in her living room)." Nafisi gives voice to the women's struggles, as their stories become intertwined with those they were reading.  
Born and raised in Iran, the author earned a Ph.D. at the University of Oklahoma during the 1970s. She returned to Iran and taught English at the University of Tehran. In 1981, she was expelled for refusing to wear the mandatory Islamic veil and did not resume teaching until 1987. She left Iran in 1997. From 1997 to 2017, she was a Fellow at the Foreign Policy Institute of Johns Hopkins University's School of Advanced International Studies, Washington, D.C.  
Why this book: The Book Club committee thought reading a memoir about a book club from a different culture  would be enlightening. By digging deeper into the women's stories, readers are apt to find common ground with  women whom they have never met.