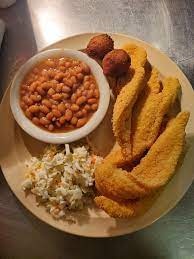 Fish Supper in the Parish Hall
Maundy Thursday Fish Supper is BACK!  On Thursday, April 6 at 6pm, St. James' will be having the Fish Supper in the Parish Hall. Directly following will be Maundy Thursday Worship. Fish dinners will be provided again from the wonderful Doug's Fish Fry.
Please RSVP by April 4th everyone in your family choosing either regular fried fish or baked fish which is the gluten free option.  Know that we have to honor what your order is and there is no switching when you arrive.  Each meal comes with coleslaw and baked beans.