Melody R. Smith Johnson is a tenacious catalyst for change. Melody is an entrepreneur, ordained minister, servant leader, social activist, mentor, and a dedicated wife, mother and grandmother.
The only daughter of the late Pastor Beverly L. Smith-Crafton, a renowned Harlem-based Pastor, professor, trailblazer and General in the Gospel of Jesus Christ; Elder Melody served in ministry to the Harlem community alongside her mom for several decades focusing in the areas of Teaching, Praise & Worship Ministry, Women's Counseling, Youth and Singles Ministry. 
Honoring her mother's legacy, in 2016 she founded the Beverly L. Smith Empowerment Initiative, Inc., ("The Initiative") which provides mentorship, scholarships, and entrepreneurial coaching for Black and Brown young women across the United States.  To date, The Initiative has awarded $80,000 in college scholarships and stewarded dozens of impactful mentorship connections.  In 2021, The Initiative launched the Affirmed Melanated Princess program (AMP) to "AMPup the Inherent beauty in our girls via Reading Hours for elementary-aged girls, a Rites of Passage series for middle and high school aged girls and a Graduation is the Goal college tour program. 
Proudly hailing from the Village of Harlem, NY – where she reared her children and developed a love of service to communities at large – She currently lives in Central New York. Like Harriet Tubman before her, she has chosen Auburn, NY as her hometown.
In addition to being a 20+ year HR Executive and CEO of MSJ HR Consulting, she is the Owner/Lead Designer of Divine Coverings, LLC, a successful online retail bling business offering products that help women experience bedazzled beauty every day.
In July of 2022 she opened Melody's – the first a co-working, retail and event space owned by a Black woman in downtown Auburn.  Melody's is a community and creative space where female entrepreneurs are embraced to elevate and master the skill of living their wildest dreams.
She is a graduate of Vassar College (BA Political Science), Anchor Theological Seminary and Bible Institute (Th.M.) and is in Class of 2023 – M.S. in Leadership and Management at Keuka College. She sits on the Boards of the Auburn Public Theater, the Harriet Tubman Center for Justice and Peace, the Cayuga County Chamber of Commerce, the Minority Professional Association; holds memberships with the NAACP, the Black Wall Street, Cayuga County Democratic Committee, the Society for Human Resources Management and supports several local and national initiatives designed to create and increase access and equity for Black people.
Black Celestial Choral Ensemble of Syracuse University will sing at the 10:45 service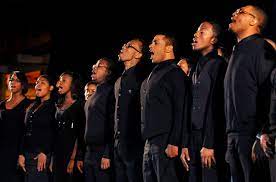 Founded in 1977, the Black Celestial Choral Ensemble is a choir composed of students at Syracuse University dedicated to ministering and lifting up the name of Jesus Christ! Through passionate praise and worship, vocalists share their abilities and share their love of Jesus Christ.