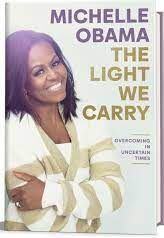 Adventure Book Club February Discussion
The Light We Carry: Overcoming in Uncertain Times by Michelle Obama.  
Discussion: Sunday, Feb. 19 at noon.  
From the publisher: "Michelle Obama offers readers a series of fresh stories and insightful reflections on change, challenge, and power, including her belief that when we light up for others, we can illuminate the richness and potential of the world around us, discovering deeper truths and new pathways for progress."  
Why this book: The Book Club committee thought this book would be a great way to launch our Season One. We all need light and hope, especially during cold, dark winters and unsettled times.